March 29, 2020
Humans,
Hey everyone, here are a few funny things people sent me over the last few days. I kept everything clean. So enjoy and I'll be back tomorrow with more observations and thoughts from an ER doc.


Mayor Says "Listen up dipsh*ts"
https://www.washingtonexaminer.com/news/listen-up-dipshits-kentucky-mayor-issues-profane-warning-for-residents-to-stay-home-amid-coronavirus


Be careful posting Zoom happy hours
In this era of constant Zoom meetings, I've done some virtual happy hours with a group of college friends, which brings a lot of laughs. I've also done two professional discussion sessions with some fellow consultants - useful, with maybe a few laughs. Today, I signed in for a different happy hour that was organized by a consultant in my field. I participated last Friday and was happy to do this again. But, about 10 minutes into the meeting, we were bombarded with random people joining… an inappropriate screen sharing session was started. So I bailed. It's not "ha ha" funny (since they ruined the happy hour), but more like "well, that's the first time for something new" funny. Lesson learned -- don't promote your happy hour intended for professional acquaintances on TWITTER. As with many problems, the root cause is Twitter.


Conference Calls
https://www.youtube.com/watch?v=UhjGQQpxFUc
https://www.youtube.com/watch?time_continue=15&v=DYu_bGbZiiQ&feature=emb_logo


Welcome to the Gun Show
Working from home presents a number of new processes and challenges, especially for people participating in web conferences with customers and vendors.
Over the last week two weeks I've noticed that, almost universally, people have been turning on their webcams for said conference calls in an effort to help bridge the gap to human engagement. That small behavior change has truly made a difference in the virtual interactions to which many have been anchored. I've adopted that behavior, but I still manage to make the age-old mistake of thinking a call starts later than it actually does. That, of course, leads to a mad dash to log in to participate. All of those factors combined creates a recipe for disaster, as was the case with me late last week.
The long and short: I thought I had a call at 1 PM. I didn't. What I DID have, was a call at noon.
At noon, I realized I was running late and scrambled to get logged in. Normally that wouldn't be a big deal but, at that moment, I was in the middle of changing my shirt and, in my scramble, I didn't bother to put one on before joining the meeting. I think you see where this is going…
Before I knew it, I was logged into the meeting and a tiny window housing a shirtless me appeared on my and everyone else's screen for what seemed like an eternity. The situation was quickly remedied but the damage was done.
To any participants on that call who may be reading this now, I say two things, "I'm sorry, and you're welcome."


Couple of places to go for funny stuff
https://www.alligator.org/the_avenue/coronavirus-memes-provide-laughter-in-a-time-of-worry/article_6fad5862-6d38-11ea-b72d-2f41630e7f81.html
https://twitter.com/gnuman1979/status/1239523796542992387


Tweets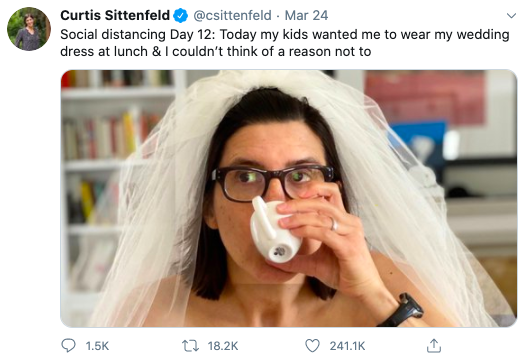 Couple leftover stuff from yesterday's Love & Goodness
Hi folks: I just wanted to share a sweet story from out here in Hudson Bend. On our local "Neighborhood' a woman posted that she is a nurse and was at HEB shopping for groceries in her scrubs. When she got ready to pay a gentleman, who would only say his name is George, paid for her groceries. He told her he wanted to do this to thank her for going to work and taking care of folks, even at her own risk. The woman had a 3 yr old still needing to be picked up from day care. She said this act of kindness meant so much to her as a working single mother and a nurse.
https://www.facebook.com/donate/1454719978049330/
A couple of funny images

Stay emotionally connected and physically distant,

Greg