As we continue to learn more about COVID-19 and do our part to keep our community healthy, we want to remind you that we're all in this together. Read some updates from our very own Greg Jacobson, ER Doctor of 20 years and CEO of KaiNexus. We will be updating this post daily with new thoughts from Greg. The oldest messages are at the bottom of this page.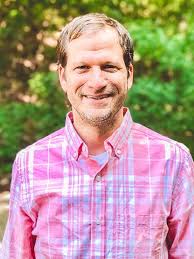 Thoughts from Greg: April 8, 2020
Humans,
My emotions get fractioned.
Are you focusing on the lagging indicators of daily deaths as they continue to display exponential growth? Or, are you looking at the leading indicator of daily new cases and see that exponential growth has stopped for the third day in a row? Or, are you focusing on the beauty of being 9 and having so much wonder, imagination, potential, and wisdom? Or thinking like the 44-year-old who is scared for his family and friends, buried in to-do lists, and trying to keep everything afloat? Or, are you processing the conversation with your banker who explains the mortgage deferment program if income dries up? Or, thinking about the task of doing your standard work to close out the prior month? Or, do you have your MD hat on trying to learn as much as you can about this new disease? Or, are you realizing one of the greatest singer-songwriters sung his last song?
And, that's just a small sliver of a typical pandemic day in the old noggin.
And, I know we are all filled with fractioned emotions.
And, I know that the forecasts are looking more hopeful.
And, I know there will be people soon that will say "see, we overreacted."
And, I know they are like my patients that say they don't need to take their blood pressure pill anymore because since they have been taking the pill they now have normal blood pressure.
Remember, we said one thing at the beginning of this, if we don't say that we overreacted to this, then that means it will have been a blood bath. I am still praying that we will one day all say that we overacted but, honestly, there are about 15,000, no 89,000, families that no matter the final outcome will ever say that we overreacted.
We will focus mind-share soon on the what, how, and when of social distancing easing. And, this will be appropriate soon. But, as we move into this next phase, likely over the next 1-2 months, this is how you need to think of the Dance…
Social distance based on what the lagging indicator is telling us… the number of deaths per day…
Appreciate that the effectiveness of the social distancing is leading indicator... the number of new cases per day…
With how itchy everyone is to get back to normal life, it is likely we will err towards easing restriction too early…
But, short of having a crystal ball and a little fairy dust, we will need to let scientists lead the way. We need to let the easing of restrictions, the Dance, be made by scientific reasoning and educated people who deeply understand the science of pandemics and this disease that are looking at regional, state and national stats on the healthcare capacity, the age/sickness of local populations, the density of local population, the state of proven advances in treatment - to name a few of the big variables.
So, in short, we have done good work, amazing work, I am proud of the work we have done, but this race is a marathon and not a sprint.
Stay emotionally connected and physically distant,
Greg
PS: The best line of the day came from my grandmother who said, "This was an unusual seder". Yes, Oma, it was quite unusual. Next year in... person.

---
Thoughts from Greg: April 7, 2020
Humans,
Today I thought I would write about democracy. With the Wisconsin primary election proceeding during this pandemic and Boris Johnson being sent to the ICU, I thought I would take a moment to think about democracy during this time.
A good friend asked me to let everyone know there are socially distant sensitive ways to continue to participate. It's important to respond to the census and register to vote-by-mail (if applicable). Both are very important for the health of our democracy during this difficult time.


Census
Most people will have received a census notice in the mail in the last week or so. Even without the notice, you can still respond online or by phone.
844-330-2020 (English)
844-468-2020 (Spanish)
Normally census workers begin canvassing non-respondents in early April. That will not be safe in many areas.


Voting
The Texas primary runoff election has been postponed until July 14.
In Texas, anyone over 65 can submit a request to vote by mail, which is great since this is a group who would be most at risk from gathering at polling locations.
The vote.org website has great information on the current election status in all 50 states: https://www.vote.org/covid-19/


Misc:
This visual from the New York Times reminds us why we are doing what we are doing. Not for the faint of heart when you realize it is showing the number of deaths.
This is another way to make a mask out of stuff in the house.
You enjoy yourself looking around this site with some great phans being part of the solution.
This is a great natural remedy for this pandemic:

take 500 mustard seeds, 500 fennel seeds, and 500 grains of rice
Mix and leave in a bowl for 30 minutes
Empty on a large sheet and separate each into individual bowls
Repeat multiple times until pandemic is over and physical distancing is not needed


Stay emotionally connected and physically distant,
Greg
---
Thoughts from Greg: April 6, 2020
Humans,
Destiny
The thing that gives me the most hope, the absolute most, is that we can control this. Our destiny is not predetermined. We control our destiny.


Interconnectedness
This pandemic has made me think of how interconnected we are. We are interconnected immediately when we are in the same room and the world is completely interconnected in just a few short days. This pandemic is reminding us of that fact.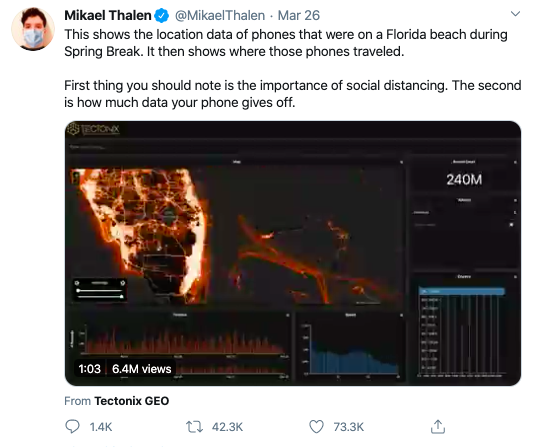 Here is a quote from Daily Dharma speaking on the interconnectedness of all living things:
To see into the interconnectedness of all living things is to see how all living things are part of a unified field that contains all, and at the same time to see that this entire field is embodied by each being. —Ven. Bhikkhu Bodhi, "The Need of the Hour"
Here is a place you can go to see if your county is at risk to have an epidemic. It is a data-driven way to say that all placing in the US are connected. Thank you to the University of Texas at Austin for doing this important work.


3 Doctor Stories
I believe these are all great examples of leadership. Leadership takes many different forms. I'm not sure if we can have too much leadership during this time.
A statement from Dr. David Fleeger, TMA President: We will not tolerate any discrimination. Strong and to the point. Well done.

A daily radio show from Dr. Drew Colfax (a friend from residency days) helping the rural community in Mendicino County, CA get answers about Covid-19.

An example of the medical community needing more time to understand this disease. If we have more time, we will have better outcomes. Here is a message to other doctors saying this may not be pneumonia that leads to the common severe pathway of ARDS that we are used to seeing. (Note to the other medical professionals reading this: The webinars from EMRAP are free and very high value. They have been doing one per week the last several weeks. There is one tonight.)


Stay emotionally connected and physically distant,
Greg
---
Thoughts from Greg: April 5, 2020
Humans,
Yesterday, in History Lesson (Part 1), we learned that social distancing is not unprecedented in the US. Well here is Part 2.
We have been talking about two different things all humans can do to fight this virus... social distancing and mask-wearing. Interestingly, the US was leading the charge on mask-wearing during the Spanish Flu. Interestingly, wearing a mask was not just advised but it was illegal to leave your house in some places in the US. Unfortunately, we have been late to the game 102 years later.
Check out this story. Here is a crazy image…

Here is another example of the concept that to know where you are going, you must know where you've been.
And here is the surgeon general Dr. Jerome Adams US Surgeon General showing how to make a mask with stuff lying around the house.


Stay emotionally connected, physically distant, and wear a mask cuz its what we did 100 years ago,
Greg
PS: Yes, it appears as though animals other than Humans can get an illness from this virus. I would not want to be the person that had to do the swab on that kitty cat.
---
Thoughts from Greg: April 4, 2020
Humans,
Isn't it always the way when you discover that this time isn't, in fact, unprecedented. Apparently social distancing isn't new at all. It makes sense as we've understood germ theory since the mid-1800s. Social distancing is how we got through the Spanish Flu and it's how we are going to get through Covid-19.
So when we say "unprecedented," it will have to mean unprecedented for us - in our lifetime. Honestly, it's good to know that what we are doing isn't unprecedented, its really just standard pandemic protocol.
Stay emotionally connected and physically distant,
Greg
---
Thoughts from Greg: April 3, 2020
Humans,
Tonight is for the nurses, medics, respiratory therapists, lab technicians, radiology technicians, ultrasonographs, security people, registration, janitorial staff, transporters, social workers, caseworkers, clergy, administrators, maintenance, computer programmers, IT folks, telephone operators, operating room orderlies, pharmacists, volunteers, safety equipment manufactures, ventilator makers, drug companies, medical device companies, researchers, PhDs, and doctors.
It takes a lot of people to run a hospital, and I'm sure I forgot more than I remembered.
And, here is a more meaningful thank you note from an 8 yr old many of you know…
Stay emotionally connected and physically distant,
Greg
PS: The initial data about convalescent serum therapy is promising. Here is a helpful non-medical article, and here is the medical one. If this does prove to be beneficial, it would be rather cool because the concept of the recovered people being able to help the infected people is a beautiful thought.
---
Thoughts from Greg: April 2, 2020
Humans,
Yep, I'm going to talk about masks again (if you, and everyone you know, are convinced on the value masks, go down to F-virus below).
The more conversations I have with people, the more it is apparent that everyone doesn't yet understand that they need to wear a mask when they go into a public place (grocery, gas station, etc). Here is a great short explanation and here is a great long explanation. BUT, it looks like universal-public-mask wearing is getting some serious legs and let's hope this becomes the formal recommendation very soon.
Here is the only visual you need to see…
Make your own mask https://www.statethelabel.com/ages/masks or https://www.stitchroom.com/masks


If you don't want to sew... https://www.youtube.com/watch? orv=476TGARSSS4 or https://www.youtube.com/watch?v=b6ADNMFRzIM
F-Virus
Please watch this. It is excellent.


Stay emotionally connected and physically distant,
Greg
PS: For my medical friends. This was fascinating from South Korea and this was fascinating from the USA.
---
Thoughts from Greg: April 1, 2020
Humans,
It's been a little over two weeks since I started sending out daily emails. I realized on March 15th that I had a job to do when I was talking to a good friend who did not understand the importance of social distancing.
My role was going to be to educate people.
To influence as many people as possible outside my immediate circle.
To interpret the information coming out and distill down the most important concepts.
It has taken the form of a daily letter to you humans. I have sent it to essentially every email address I can think of and many of you have told me you are forwarding them onto your networks. Thank you.
I know it has felt like an eternity but it has only been a little over two weeks since my first email. It's a good time to review the past couple of weeks. We are starting to enter a different phase. I know we all can all feel it and it's not going to be very much fun. Finally, we seem to have the majority of people on board understanding what the future has to hold.
So before we get too far, let's see the main facts we have to deal with laid out sequentially with all the parts and pieces on display... let's do a situational analysis...
We are in a historic time.

There are essentially three pandemics on record of which this compares. The Plague and the Spanish Flu being the other two. Let's hope the Covid pandemic stays in 3rd place.

SARS-CoV-2 is the virus that causes Covid 19 illness. This virus is "novel." That means no human has ever seen this virus so there is no immunity anywhere to it. Viruses are invisible. These are important facts. Especially the last one. Let them sink in.

Corona is particularly bad because people with the infection infect people before they have symptoms, it takes anywhere from 2-14 days before you know you have it, and it takes about 1-2 wks to kill you.

It kills old and sickly people the most, but it kills young people as well.

It was likely spreading in the US since mid-January well before it was recognized in the US.

This pandemic is experiencing exponential growth. Exponential growth is hard for humans to grasp. It's very boring at first and then gets really bad really quickly. Unfortunately, there is a good example of exponential growth on any Covid counter showing the spread of the virus in the US right now.

We have too few tests in the US so we really have no idea how bad the problem is (or what the true mortality is).

We need to socially distance because it will flatten the curve and that will ensure the healthcare demand stays below the capacity.

Any social distancing action we take will take TWO weeks before we see the result. This is perhaps the most important fact to understand about the next month.


There is really not one curve. Every region essentially has its own curve. New York's curve is the worst right now and its healthcare demand is in the process of outstripping its capacity.

Outstripping healthcare capacity means many more people will die than necessary. If you need a hospital bed and a ventilator, you want one available if you get sick. Also, humans, please let's not make this a political issue. The virus does not care whether you are blue or red.

Medical safety equipment is in short supply and has been and will continue to be a problem.

Not slowing the disease is not an option because the death would be in the millions

in the US alone and the economic destruction certainly be defined as a depression vs a recession. Sot he best thing to do for our health and economy is to flatten the curve.

The economy is going to be hurt badly. Many will lose their jobs, their homes, their lives. No one will make it through this pandemic without being affected.

Society has been slow to understand the importance of social distancing but that is changing fast. People are starting to get it. Our country's national, state, and local leadership is now almost completely on board. The tipping point occurred sometime in the last two weeks and this is amazing (and gives me the most hope).

Social distancing is our individual part. It means anytime you go out and interact with anyone and it is not essential for you to do so, you are part of the problem and not part of the solution.

We are in the Hammer phase now - the sit at home and let hospitals and communities get ready or, now in many places, fight the fight at the frontlines.

We will be in the Dance phase soon. The Dance will let some people get out more.

We are all learning what are essential trips (going to the grocery store and going to do essential jobs) and how to safely do them. We are also in the process of figuring out what are non-essential trips (golfing, haircuts, and having friends over).

It is clear to the scientifically and medically minded that non-medical masks for the general public when they are out for essential trips will be a better option than no mask. We will let the government folks debate this. In the meantime, wear a non-medical mask.

Just like wearing a seatbelt wearing a mask does not give you justification to drive recklessly, wearing a non-medical mask shouldn't give you a license to leave the house for non-essential trips.

People are coming up with solutions to make masks at home at scale.

Factories are re-tooling and solving the safety equipment problem. I shared an article about Anheuser-Busch and here is another story.

Businesses are adapting to run more safely during this time.


Time is our friend. People aren't talking about this enough. Everyday you can go and not get Covid...
the closer you are to a vaccine

the closer you are to even more effective treatment

the longer medical professionals will have to understand and study this disease


The more time we have the better you will be, the better our country will be, and the better our world will be.
Our destiny is in our hands. What we have accomplished so far has been inspiring and what we will do is going to be even more amazing.
Someone sent me this video and it touched me…


Stay emotionally connected and physically distant,
Greg
PS: On my March 30th email, I mentioned that we needed the Go to the F**K to Sleep book that was narrated by Samuel L Jackson to be rewritten to the title - Stay the F**K home. Apparently, Samuel listened. Enjoy.
PPS: Since you made it this far. You get a bonus. Enjoy this.
---
Thoughts from Greg: March 31, 2020
Humans,
Over the last 24-48hrs, it has become obvious to me that there is some question as to the definition of essential and non-essential.
Essential means things that you have to do. These include visiting the grocery store and going to an essential job.
Non-essential means things that you do not have to do. These include golfing, haircuts, and hanging out with friends. These are all things that people I know have either done, almost done, or are giving their parents grief because they want to do.
This is not the time to make a joke about how golf, haircuts, and hanging out with friends are essential to life. When you need a ventilator you will not be able to say, "No please give it to 65-year old instead. I didn't practice social distancing and so I don't deserve it." No, what will happen is that you will get the ventilator and the 65 yr will die. If you think this is an exaggeration look at the news and read about what is occurring in New York they are becoming overwhelmed. The stories aren't going to get easier to read until that curve changes.
Someone close to me asked me to write a note to their son (around 20 yrs old) about the importance of social distancing. How sacrificing a little now will allow us to get through this with fewer deaths from the healthcare symptoms being overwhelmed. Adrienne said I should send it out in case anyone else wants to use it or a part of it to convince their teenage knuckleheads. The parents are around fifty hence the 1.3% mortality number.
[name],
I hope you have been getting my emails. You are certainly old enough to read them. I guess you just need to look in the mirror and figure out what kind of human you are. If you're ok with blood on your hands, then go out and hang out with friends. But, if you want a clear conscience and you want to be 100% certain that your unnecessary actions today didn't kill someone in 1 month, then you will be unselfish and stay home. This won't last long and social distancing will start to look different soon. You can have people come to your front yard and hang out on their chairs. Just don't get within 6 ft of them. Don't have them touch anything. They shouldn't be touching the mailbox, cars, your phone or anything else.
We will figure out very soon the socially responsible way to interact again. We just don't know yet. Also, your parent's mortality with Covid is 1.3%. Why expose them to an illness that has 1.3% mortality when the longer they can go without getting the illness the more of a chance there will be a treating medication or a vaccine? You have the internet and video conferencing and you can work from home.
Stay the f*ck home and stop giving your parents a hard time. They didn't cause this virus and want to go out as much as you do,
Greg
If you want to hear Dr. Mason Mileur and I answer questions about Covid, we are doing another Ask Doctors Anything. We did one two weeks ago but a lot has changed so we thought we would do another one. You can register here (https://info.kainexus.com/continuous-improvement/webinar/ask-docs-anything-covid-19-again/signup?)
Stay emotionally connected and physically distant,
Greg
---
Thoughts from Greg: March 30, 2020
Humans,
I've had some clarifying questions on my email from this past Friday where I stated we should all be wearing masks in public. Yes, that is what I said and I realize that may not be the word on the street… yet.
I'll say it again… wear a mask when you go in public.
If you go anywhere other than into your home (ie grocery story, USPS, hardware store etc) and there is the possibility of touching a surface of any kind, you should wear a mask.
This is a virus that spreads via droplets from your respiratory tract. It does not appear to be spread via the GI tract or via blood. It does not appear to live in the air for very long. So, if you think about it logically, as long as you stay away from people (appr 6ft) and as long as you don't touch a surface with the virus and then put your hand to your mouth, nose, or eyes, you (theoretically) have no chance of getting the virus.
Here is the deal. We touch our faces A LOT. A mask will prevent you from touching your mouth or nose. It will also decrease the amount of virus you are spreading if you are infected but don't yet have symptoms because it will catch your saliva when you talk, cough, sneeze, or laugh.
A couple of facts that make wearing a mask a no-brainer:
You shed virus before you are symptomatic.

The virus lives outside the body for some time. Depending on the surface, somewhere between 4 hrs and 3 days (maybe more).

Wearing a non-medical mask is extremely low-cost

There are essentially zero negative consequences of wearing a mask
Your mask should not be an N95 or surgical mask. There is a shortage of those, and they are needed for medical purposes. Healthcare workers need them because healthcare spaces have a lot of people with the virus in a small area, and we are trying to not contaminate everyone (including ourselves). So having more sophisticated equipment that is disposable is far more important in an ICU or ER than the grocery store.
I don't know why "they" have been saying to not wear a mask. No one asked me.
After giving it some thought last week, I realized a cultural change was required to make this happen hence the message of my email last Friday. The better we do the Hammer phase now the quicker we can get out of it and get to the Dance. Hence why we need to wear masks.
I went to the Intranets to see why more hadn't been written on this. I found several articles that have been recently published:
Q: What mistakes are other countries making?
A: The big mistake in the U.S. and Europe, in my opinion, is that people aren't wearing masks. This virus is transmitted by droplets and close contact. Droplets play a very important role—you've got to wear a mask, because when you speak, there are always droplets coming out of your mouth. Many people have asymptomatic or presymptomatic infections. If they are wearing face masks, it can prevent droplets that carry the virus from escaping and infecting others.
The only negative consequence I can think of with regard to wearing a non-medical mask is that you will feel funny wearing one. And the only reason for that is because it is not yet an accepted part of our culture to wear a mask in public. I vote that we get over ourselves, that we realize everyone is in fact not looking at you, and that we all wear masks in public. It won't be forever.
I have zero doubt that masks will be a part of our long-term social distancing solution (The Hammer and the Dance). Places that have been successful in flattening their curves are using masks. It makes sense from a scientific standpoint, it is consistent with the best observational science to date, it costs little to nothing, and it has essentially no downside. So, until a large randomized controlled study comes out stating it is not helping, let's get to the Dance as soon as we can and start wearing a mask on every one of your essential public outings.
Here is where you can make them:
Here is my new Linkedin Pic. I even figured out how to log into Facebook and update that one ;).

Stay emotionally connected and physically distant,
Greg
PS: If it isn't an obvious enough idea, an adult book called Stay the F**k Home read by Samuel L Jackson would do really well right now. I could use a good laugh right now. If someone would be so kind as to write it, it would be appreciated.
PPS: John Prine is apparently doing better - last night he was critical and today stable (here and here).
---
Thoughts from Greg: March 29, 2020
Humans,
Hey everyone, here are a few funny things people sent me over the last few days. I kept everything clean. So enjoy and I'll be back tomorrow with more observations and thoughts from an ER doc.


Mayor Says "Listen up dipsh*ts"
https://www.washingtonexaminer.com/news/listen-up-dipshits-kentucky-mayor-issues-profane-warning-for-residents-to-stay-home-amid-coronavirus


Be careful posting Zoom happy hours
In this era of constant Zoom meetings, I've done some virtual happy hours with a group of college friends, which brings a lot of laughs. I've also done two professional discussion sessions with some fellow consultants - useful, with maybe a few laughs. Today, I signed in for a different happy hour that was organized by a consultant in my field. I participated last Friday and was happy to do this again. But, about 10 minutes into the meeting, we were bombarded with random people joining… an inappropriate screen sharing session was started. So I bailed. It's not "ha ha" funny (since they ruined the happy hour), but more like "well, that's the first time for something new" funny. Lesson learned -- don't promote your happy hour intended for professional acquaintances on TWITTER. As with many problems, the root cause is Twitter.


Conference Calls
https://www.youtube.com/watch?v=UhjGQQpxFUc
https://www.youtube.com/watch?time_continue=15&v=DYu_bGbZiiQ&feature=emb_logo


Welcome to the Gun Show
Working from home presents a number of new processes and challenges, especially for people participating in web conferences with customers and vendors.
Over the last week two weeks I've noticed that, almost universally, people have been turning on their webcams for said conference calls in an effort to help bridge the gap to human engagement. That small behavior change has truly made a difference in the virtual interactions to which many have been anchored. I've adopted that behavior, but I still manage to make the age-old mistake of thinking a call starts later than it actually does. That, of course, leads to a mad dash to log in to participate. All of those factors combined creates a recipe for disaster, as was the case with me late last week.
The long and short: I thought I had a call at 1 PM. I didn't. What I DID have, was a call at noon.
At noon, I realized I was running late and scrambled to get logged in. Normally that wouldn't be a big deal but, at that moment, I was in the middle of changing my shirt and, in my scramble, I didn't bother to put one on before joining the meeting. I think you see where this is going…
Before I knew it, I was logged into the meeting and a tiny window housing a shirtless me appeared on my and everyone else's screen for what seemed like an eternity. The situation was quickly remedied but the damage was done.
To any participants on that call who may be reading this now, I say two things, "I'm sorry, and you're welcome."


Couple of places to go for funny stuff
https://www.alligator.org/the_avenue/coronavirus-memes-provide-laughter-in-a-time-of-worry/article_6fad5862-6d38-11ea-b72d-2f41630e7f81.html
https://twitter.com/gnuman1979/status/1239523796542992387


Tweets
https://twitter.com/csittenfeld/status/1242554050656296967?s=20
https://twitter.com/taytabb/status/1242909078298537991?s=20


Couple leftover stuff from yesterday's Love & Goodness
Hi folks: I just wanted to share a sweet story from out here in Hudson Bend. On our local "Neighborhood' a woman posted that she is a nurse and was at HEB shopping for groceries in her scrubs. When she got ready to pay a gentleman, who would only say his name is George, paid for her groceries. He told her he wanted to do this to thank her for going to work and taking care of folks, even at her own risk. The woman had a 3 yr old still needing to be picked up from day care. She said this act of kindness meant so much to her as a working single mother and a nurse.
https://www.facebook.com/donate/1454719978049330/
A couple of funny images

Stay emotionally connected and physically distant,

Greg
---
Thoughts from Greg: March 28, 2020
Humans,
Today will be about stories of love and goodness that have come about from the CV pandemic. It's not an attempt to ignore the pain and suffering that is occurring. It's important to take a respite from the doom & gloom and focus on the inherent good in the world and in humanity specifically.
Here is just a random collection of stories and observations of love and goodness...
A list of good things from KaiNexians:
Our local humane society is getting a ton of pets fostered right now since they're closed to the public. You can pick out the pet online (or they'll pick it for you), and then they'll bring it out to your car so that human interaction is as limited as possible. That's the place where I adopted my dog, so they've got a special place in my heart.

I've been reading a very good book about the spiritualist movement and the conflicts between psychics and skeptics. It's one of my favorite historic topics to learn about, and it's been a good read.
I've also been relistening to some of my favorite podcasts and having lots of laughs while I make good progress on my sewing.
Today is my brother's birthday and it's been combined with my niece's first time crawling! A huge moment for my brother and me.
One of the schools in the next town over (Elon) had an elementary teacher parade. Teachers drove through the town in a parade waving to all of their students.
My friend's neighborhood has a bunch of little kids that all go to the same school. The school has a violin class. It's really hard for first graders to learn the violin, and they were SUPER disappointed when school was canceled because they were missing the spring concert. The parents took them outside, lined them up far apart, and they performed for their socially distanced families.
Personally, what's brought me the most joy is the daily calls my daughter has with my Grandma - they talk two

hours a day. I'm worried about both of them being lonely and depressed, so these calls are great. They read stories, play games, learn things (counting money was the big one this week), and Eliza carries Gigi all over the house finding things to play and talk about together.
Stay emotionally connected, physically distant, and wear a mask when you go out,
Greg
---
Thoughts from Greg: March 27, 2020
Humans,
Changing the Culture
I have been thinking a lot about masks. We need to change the meaning, the intention, the belief, and ultimately the relationship we have with wearing masks.
To do this let's change the meaning of wearing a mask. Let's start making mask-wearing a...
sign of respect for others as well as a sign of politeness

signal to everyone that you are taking this seriously

way to decrease the spread of Covid when you are asymptomatic

reminder (and a barrier) to not touch your face when you are outside so you don't get infected
There is little question that wearing a mask will help us reduce the spread of the Covid disease. Mask wearing will be an important part of maintaining social distancing while we are in the Dance. The quicker we can get everyone doing this the better. We don't need them when we go out for a walk, but if we have deemed the trip as essential then wear a mask.
We need to change our culture of mask-wearing immediately. In the famous words of Seth Godin, "People like us do things like this." So, start spreading the word and start wearing a mask 100% of the time when you are interacting in the world.
It doesn't need to be a medical or N95 mask. Those should be donated to hospitals soon because they will run out. This is where we need to get creative and make or use homemade masks (great business opportunities here entrepreneurs ;). Let's go update our social media pics. As soon as possible, masks need to become a fashion statement, a statement of personality, a way we can get back to living a regular life again, and a way to reopen our economy.
You think I'm crazy?
Remember when we didn't wear seatbelts?

Remember when we smoked in restaurants?

Remember when we skied without helmets?
Wide-spread mask use will be part of the Dance. Guaranteed. Sure, it will be awkward at first, but it will be a hell of a lot better than sitting home for months on end.
Wearing a mask will signal that you care, that you are doing your part, and that you are part of the solution. The more of us that do it, the more it will tell everyone else that they need to get on board.
Let's go change the culture together!
Stay emotionally connected, physically distant, and where a mask!
Greg
---
Thoughts from Greg: March 26, 2020
Humans,
Italy is flattening its curve!!!
This should be in the front-page headlines. I'm no statistician but it is hard to ignore that they have not been in exponential growth for the 4th day in a row! This is what has to happen in order to flatten a curve. Social distancing works! We just have to give it time to show the result (at least two weeks and maybe more if we don't go extreme enough).
Italy is essentially a time machine for us. They are about 1.5 - 2 weeks in "our future." This provides good evidence that extreme social distancing works in the western world. Below is the prettiest image I have seen in the last few weeks, for sure.


I really really really hope this is good data and not just an anomaly due to a lack of testing, but its what we got, and it makes logical sense, so I'm going with it.


Kids in Quarantine: Advice from Parents
I want to bring your attention to a panel-style webinar we (KaiNexus) are doing tomorrow called: Kids in Quarantine: Advice from Parents. If that is interesting to you, please register as it's filling up fast and will be good lunch-break fodder.
https://info.kainexus.com/continuous-improvement/webinar/kids-in-quarantine-advice-from-parents/signup

Some selections of what I have been reading and other odds and ends.
Here are great articles that I learned stuff from, or made me think, that I read in the last few days.
The way I look at it for social distancing is that you never know what your individual action, especially a preventive action, can and will do. It is very hard to quantify a negative of something bad not happening.
https://www.newyorker.com/news/q-and-a/the-vital-importance-of-isolation
https://www.theatlantic.com/science/archive/2020/03/biography-new-coronavirus/608338/
https://www.wired.com/story/coronavirus-interview-larry-brilliant-smallpox-epidemiologist/
Enforcing Shelter at Home: Super interesting to think through how as a society we are going to enforce shelter at home. Are you going to put people in jail? Talk about counterproductive. Hopefully, we never need to and those that are complying will be enough.
https://www.texastribune.org/2020/03/23/texas-coronavirus-order-enforcement/
There is science behind exponential growth being hard to understand. Hell, just look at people's retirement accounts right? Most important time to save is in your twenties, right? And very few do. Exponential growth is really really good for good outcomes and really really bad for bad outcomes. That's right I said it first.
https://www.sciencedirect.com/science/article/abs/pii/S0167487016306596?
ER docs talking, two have Covid illness (recovering). The first 10-15 min is interesting to even a non-medical person. As the talk goes on it gets more and more difficult to follow if you aren't an ER or Critical Care doc.
https://www.youtube.com/watch?v=e51V9M2avrw
https://www.pauseregulations.com/
Sexy innovation: https://amp.cnn.com/cnn/2020/03/26/tech/dyson-ventilators-coronavirus/index.html
Boring innovation: https://www.huffpost.com/entry/how-to-make-face-mask-coronavirus
And more "boring" innovation that may save your life...
Someone sent me a version of this facebook post. It apparently comes from a Johns Hopkins University professor. I love the reminder that viruses are just replicating pieces of DNA. They are not "alive", but it does bring up an interesting conversation of what is the definition of life.
I met with friends on an internet video chat last night. It was much more natural than I thought it was going to be. It was really nice to see people's faces. One interesting question that came up from last night... will handshaking come back into our culture?
Hey, tomorrow I will focus on the positive side effects of this devastating time. It is not intended to ignore the suffering and difficulties, but I believe we can focus on the good while still being respectful of the negative impacts. You can help - please send me a few lines or a link to a nice story or maybe something that made you laugh.
Stay emotionally connected and physically distant,
Greg
---
Thoughts from Greg: March 25, 2020
Humans,
A number of conversations about our fight against the Corona Virus imply that combating the virus is unnecessarily destroying the economy. Or, said another way, to preserve the economy we need to relax our fight against the virus. This is a false dichotomy. I have hinted on this in prior emails but a good friend called me yesterday and appealed to me to make this topic front and center for today's email. We have to shift our thought process here... fast. We have to understand that when we fight the virus aggressively now, we not only ensure that the fewest people die from healthcare overcapacity, but we also ensure that the economy takes the smallest hit possible. They are both immensely important and they are both inseparable.
You might be saying wait a minute, you are an ER doc. Why should we care to read your thoughts on the economy? I was brought up in the business world, and I have spent as much, if not more time thinking and practicing business over the last 10-15 years. So hear me out...the logic is sound and has face validity. At a minimum, it is worth a conversation. However, I think that in reality, a maximum virus effort now is our best way to remove the possibility of a horrible economical downturn from the table of possibilities.
It is also worth noting that I'm am talking about this under our current situation. There is no question that if we had ubiquitous testing and a well-oiled national (or world) pandemic response, we would not even be having this conversation as Covid would be a small blip on the economy. Unfortunately, that is not our current situation, so let's stick to our current reality.
I think we can all agree that the more the virus affects us as a society the worse it affects the economy. There is no scenario where we can let the virus grow unabated and keep the economy from taking a huge hit (all you have to do is look at our unfortunate test case in New York). The question becomes - how do we handle this so we eliminate a scenario where we have both a healthcare collapse and an economic collapse. How do we prevent both? Are they linked? Of course, they are. How well or poorly we address the virus will have a direct effect on the economy in an absolutely proportional way.
The first thing to think about is "affect." - which should be viewed in terms of both severity AND duration. Which is a better path forward? Is it better if the virus affects us more severely for a shorter duration or is it better if it affects us for a longer time (albeit less severe). Of course, this assumes that a less-severe-virus-response will even work. Just remember, we are likely not doing enough right now.
As best I can tell, there are zero epidemiologists or healthcare professionals recommending that we can control this virus by doing less. When people who are not healthcare experts talk about a strategy of doing less, they are aiming to do less damage to the economy only. They are not creating a strategy to also win against the virus. They are arguing that the harm caused by our response may be worse than the virus' harm itself. Keep in mind, this strategy assumes that we understand the complete nature of how much harm will really be caused, but that certainly does not seem to be the case (and we won't even begin to know for a couple of weeks). Right now, New York alone is estimating a 3x shortage of hospital beds. Underestimating the possible negative impact of this virus is a risk we as humans shouldn't take. (To be honest, if the very high probability that New York City situation will propagate nationwide does not stop to give you pause, then you can stop reading now.)
Doing less is the only path forward that includes the highest probably of both healthcare collapse and economic collapse. The only logical way you could pick this route is you believe that people's health outcome is already predestined and cannot be affected by the healthcare we provide. If you believe that, then the only decision left is whether we should do more or less damage to the economy. Believing that our healthcare system cannot save lives is moribund, and it is not based current data. But maybe, more importantly, it is certainly not consistent with fighting human spirit. Our fight against this virus has just begun, and my money is on us as People - hands down, seven days a week and twice on Sunday (or Saturday). Look at the data. Look at all the places that have had success so far, and those places that are in the process of taking control of their curve!
Ok, back to saving humanity AND the economy. It makes intuitive sense that a severe, but a short response will be easier on the economy. For instance, I would much rather have my restaurants closed for 1-month vs. 4-months. So, it is not illogical to conclude that the faster we take hold of our curve, the quicker we will get back to normalcy.
We have talked at length about the Dance. I suspect that the Dance will allow huge parts of our economy to be reopened much quicker, and in a more responsible way, if we truly get a handle on things first. This (https://www.youtube.com/watch?v=YfsdJGj3-jM&feature=youtu.be) is a cool video about how a city in China is doing the Dance, and how they are keeping their economic consequences to a minimum. Don't focus on the specific techniques they use, as I don't think they will all work here. Focus on the concept. We will ultimately figure out what we can and cannot do while still minimizing the risk of ceding any ground in this war to this virus.

As I was formulating my thoughts on this topic, I searched the Interwebs to see if someone had already written about this. I'm sure there are far more articles than this one but, the first article I found is from the Chicago Tribune "Analysis: US must face coronavirus recession in 'Lockdown Paradox': To save economy, shut it down fast." Here is the quote from this article that articulates my point more eloquently:
The interplay between the outbreak and the steps meant to vanquish it reveals a cruel paradox: The faster and more painfully that ordinary economic life shuts down, the faster the health crisis can be solved and the faster people and businesses may gain the confidence to return to normal life. Conversely, a prolonged period of fighting the virus would delay an economic rebound and imperil many small businesses.
An analogy that fellow healthcare people will understand is a disease called necrotizing fasciitis. (If you are squeamish, don't google images). It's a really bad skin infection that spreads extremely fast and can kill a person in mere hours. (Thankfully it's rare, so it's not something you have to worry about). The only way to survive is to cut out the diseased skin tissue as quickly as possible. The infection spreads much further than it appears, and so to make sure you get all of it, you have the operation early and you need to remove way more skin tissue than is apparently diseased. It feels like we can learn much from this disease as it is similar in some ways to how we are dealing with the Coronavirus.
Rare - check
Devastating - check
Drastic measures need to be taken - check.
Has the disease spread further than it appears... check.
Let that last one sink in.
I know that it is hard to wrap our heads around this concept given our instant gratification society. The last thing we want to do is ease restrictions a few days or weeks too early because then our curve will spike back up within just a few short weeks (remember, in this war, it take 2 weeks before the effects of whatever we show their effects.). This rise and fall of virus surge and healthcare system overloads will change our curve to a sine wave.
So if you really want to kill the economy, get us into a sine wave. Can you imagine if we have to go through escalating and receding restrictions over the next 6-12 months???
We need to shift the conversation from picking the best path for our health OR our economy to picking the best path for our health AND our economy. To do that, we simply need to adjust our focus. If we can focus just a little more on the longer-term, the picture becomes much clearer.
Stay emotionally connected and physically distant now so we can get back to L-I-V-I-N sooner,
Greg
---
Thoughts from Greg: March 24, 2020
Humans,
A few clarifying questions.

Ok, Greg, I get it with the Hammer phase. But has the Hammer started yet? What does it look like?
It has started in some places (New York, San Francisco, and Dallas, for instance). So, some places are in it and some aren't. Also, a number of people in places that aren't officially under the Hammer are voluntarily acting like we are under the Hammer by staying at home (Thank you very much!!). The more places in our country that go under the Hammer, the more effective this phase will be because there won't be cross-contamination (and also the sooner we will get out from under the Hammer altogether).

What do you think the Hammer Phase will look like?
I predict the maximum Hammer that our country will tolerate is these "shelter in place" orders that are being issued State and City-wide. As I write this email, Harris County (Houston Tx) just announced theirs. Also, we must realize that every area will have a slightly different curve because this pandemic hit different places at slightly different times.
I imagine Shelter in Place orders will need to be enacted in all populated places. >10k people? >100k? people? I don't know, but the size of the area that will require the hammer will be a smaller number, not a larger one. It will have to do with each region's number of cases and their overall healthcare resources and capabilities. It is significantly more than one-third of our country, which is approximately where we stand today (It seems dangerous to be thinking about lifting the Hammer before it is even down yet). If you forced me to give a guess, my gut says maybe that 80% - 95% of our population will require this Hammer phase?? I really don't know, but I do know that it is a larger percentage. I am not an expert here -- just explaining the concept.
Austin will just be starting the Hammer here tonight btw. Yeah, Austin!

Oh, jeez, so how long again?
Remember in one of my first emails when I mentioned there would be 12 days of exponential growth after a lockdown? The China-style or Italian-style hammer has to be down at least 12 days before we will see if it is working (if it is not working, that means it needs to be stricter). It has to do with the incubation period of the virus (2-14 days). If the incubation period was 2-14 hours, we would see the effect of the lockdown much more quickly.
The 12-days lockdown period came from the data in China, and Italy is following suit. Italy went on lockdown on March 9th. Do you want to guess which day they started to see a downward trend in their daily increase? March 9 + 12 days = March 21...
I hope this is good data and not simply an anomaly from the lack of testing capacity, but either way, we should all be hoping that their trend continues because it gives us at least two hopeful data sets. Basically, we have to get control of the curve, and then we can work to bring it down below the current capacity of our healthcare system. Simply put, it will take a couple of weeks to actually see the outcome of what we have done. This is very, very hard to do, and it will be different for different parts of the country based on their viral burden and their healthcare capacity. The nuances are beyond my expertise, so I'm simply articulating the concept that we will need to be thinking through.
Here's my message -- we seem very hesitant as a society to bring down the hammer fast. We are afraid of the hammer. Don't be afraid of the Hammer. It's a good Hammer. The longer we are afraid of putting it down the longer the Hammer will be around, and the longer it will take for us to get to the Dance. I know we all want to get to the Dance.

Hey, Greg aren't you doing an amazing cool fun webinar today?
In the haste of sending our email last night (which are the efforts of multiple people, by the way, thank you Jeff and Adrienne), I forgot to mention we are doing a fun webinar today that I think you will love. Its quiz time (https://info.kainexus.com/continuous-improvement/webinar/covid-19-quiz-show/signup)! We will be hosting a live interactive quiz with real-time questions. It will be a competition! Do you think you can win? It's cool, fun, and all you need is a phone to play along.
I'll let you figure out how many questions there will be ;).
Stay emotionally connected and physically distant,
Greg
---
Thoughts from Greg: March 23, 2020
Humans,
Tonight I will give you my thoughts on four questions I keep getting asked...

How long are we going to be physically distant?
I don't know the future but since so many people ask me, I would like to give you my thoughts on how this is going to play out eventually. If you haven't had a chance to read about the Hammer and the Dance yet, I recommend you go read this first. I really like that terminology and visualization, and it is a model that we are hopefully starting to follow in this country. We are not going to be physically distant forever. At one point the cost-benefit ratio of distancing will no longer be in balance. There are costs of remaining 100% distance forever (for instance, the economy will go from a recession into a depression, and there will eventually be widescale social/mental collapse). On the other hand, there is a cost to remaining 100% social (lots of people dying unnecessarily because our healthcare system will collapse). We are going to end up somewhere in the middle. I personally think the Hammer will be in terms of weeks, and The Dance will be in terms of months - if we can get our act together.

Will everyone be on the same restrictions forever?
This is essentially a nuanced conversation about the Dance. The cost/benefit to some people will be different than the cost/benefit to others. Eventually, there will need to be some strategy that will take into account three questions...
What do you do for a living? How much social interaction does it take? Are you a yard person (less interaction) or an Uber driver (lots of interaction)? Could it be modified to add distance? Do you need to interact with only young healthy people or older and high-risk people? Is your job essential to keeping our society running, or is it a role that can be sacrificed temporarily until we get this curve under control? (btw - thank you both to the people providing the essential service and to those who have sacrificed their position for the time being)
How badly do you need to do your job? Do you have no savings? Are you or those you support one month away from not having a home or food?
How bad is it if I get Covid? How old are you? Do you have a comorbid condition (diabetes, heart disease, heart failure, lung disease, immunocompromised)? Or, is someone that relies on you that is older or otherwise high-risk?
Example 1- If you are the only caregiver to an 80+ yr old parent and you're retired or work from home, then your cost/benefit ratio would be heavily skewed to maximizing your physical distancing (The last thing you want to do is to give Corona to your eighty-year-old parent when you can maintain your livelihood and care for you both with very little social interaction).
Example 2 - If you are a 25-year old with no savings, you can't make a living at home, you never interact with anyone over 60 yrs of age or with compromised conditions, and you have a job that is pretty isolated, then you will likely be able to err toward relaxing your physical distancing earlier.

What is the real problem with the lack of tests?
Yes, there is a huge problem with the lack of tests. However, it is not going to change the type of care you will individually receive by a doctor. As best we can tell, the tests are only 70% accurate. So, a person needs 2-3 negative tests before they would be deemed "Corona free." The people I saw with cold-like or flu-like symptoms today got the presumptive diagnosis of Covid-19 and were told to self-isolate and come back if they got worse (particularly if they got short of breath).
To a doctor sick is sick. Here is what I mean. Even if we had a 100% accurate, instantaneous, and limitless supply of tests, as a doctor, I would still send you home if you are well, and I would admit you to the hospital if you were sick - regardless of your test results. (I know for you physicians out there you are saying but wait... I could use it to risk stratify blah blah. I'm trying to make a point for the non-medical. The test does not cure you or treat the actual disease).
The lack of current testing is bad because we don't know how bad the problem really is or where it is really located. Without this information, it is nearly impossible to create a plan that will be effective across an entire population of people. It's also a little harder to figure out which healthcare providers should stay in the game and which should sit on the sidelines. Certainly, if we could test every single person instantaneously with a 100% accurate test, this ordeal would be over in a few weeks. We would know exactly who needs to be isolated and who among us can stop physically distancing, and the virus would die out. Unfortunately, that is impossible.


What is the solution?
Time. We need time. Physical distancing is the only way to make more time. It is a guarantee that true physical distancing will flatten the curve. There is no way the virus can magically jump from person to person. Simply put, the virus needs humans to interact in some way. The better and faster we distance ourselves from one another, the quicker we will affect the curve. We will never actually eliminate the sicknesses, but we only need to flatten the curve below the capacity of the healthcare system. Once we do this, then the cost-benefit ratio of flattening the curve changes significantly and then how flat should we try to get it is a really complicated question that I would love to watch really smart people debate.
On the one hand, if we go too far, we will certainly experience too much of the negative economical and psychological consequences of distancing. However, if we don't go far enough, there will definitely be too much unnecessary suffering from people not getting the treatment they need because of an overloaded system.
One thing is for certain, the flatter the curve the more time we have and...
time will also allow us to learn what are the high-value distancing restrictions that provide the most benefit vs. the low-value ones that may be overkill (This is the proverbial "Dance.")

time will let us increase our healthcare capacity. It will allow us to get the ventilators, the make-shift hospitals, and the safety equipment to the right places.

time will let us figure out if there is a drug combo that works.

time will let us create a vaccine.

I don't know when we let off the Hammer. I know this it's not fully down yet in most places. My gut feeling says once it is the Hammer is down for weeks not months.
In the meantime, all I'm asking is that each of you stop and think.
Think - how important is the physical interaction you want to go do and how much damage can it do? Is there an alternative?
Think - how important is isolation for you and how much benefit is gained by it?
Think - how will by decisions affect both me and those around me?
Please stay emotionally connected and physically distant,
Greg
---
Thoughts from Greg: March 22, 2020
Humans,
This crisis is about to become personal for a lot of people. I just found out a longtime friend of mine has Covid-19. All indications are that she is recovering. A friend of a family member is hospitalized. Soon we will all have stories like these.
Yesterday in response to my email someone sent me a quote that I have seen attributed both to the Jewish and the Christian scriptures... Pray as though everything depends upon God. Work as though everything depends upon you.
And then Andrea Roussel, a member of the KaiNexus family, sent me her thoughts on faith. The timing was perfect being that it is Sunday, and it was so touching and insightful, that we made it a guest post (https://blog.kainexus.com/sabbath-and-covid-19) on the KaiNexus blog. Please take the time to read it whether you are religious or not.
It anyone still has any doubts still about whether physical distancing is critical now to get a handle on this, as if Italy wasn't enough, take a moment or two and please read about what is happening in New York right now, the healthcare system is on the brink (https://abcnews.go.com/Politics/internal-memos-chief-surgeon-york-presbyterian-hospital-revealed/story?id=69735650). I'm praying that the distancing we have done so far in other places spares us this spike but my gut says we need to still do more.
I also wanted to share one more concept that I heard several times since my last email... its time to retool factories. If you know anyone anywhere that can influence the production of safety equipment (masks, gowns, hand sanitizer, etc), please have them start retooling now. Here is a cry from an ER doc on the frontlines of a hard hit place and then followed by a story of Anheuser Busch making hand sanitizer (hopefully its a lot of it and not just proof of concept):
That's all for now. Heading into my first Covid-era shift. I'll let you know how it goes...
In the meantime, stay emotionally connected and physically distant,
Greg

---

Thoughts from Greg: March 21, 2020
Humans,
I find two things really difficult to tease out with my emotional state. On one hand, the immediate risk to my wife, daughter, and myself is very low. In fact, it's very, very low. Even in the face of the fact that my wife and I are both ER docs, it's still really low. But, the chance that something bad will happen to the country and to the world is a certainty at this point and gets more cemented with the lack of more widespread shutdowns. It's really hard to feel a sense of emergency for the population and healthcare system and not turn that internally. It's something we need to remind ourselves of every moment. The urgency you hear in my emails isn't for any of us reading this. It is for all of humanity. The panic is for the fact that we have the power to alter the course but aren't doing so quickly enough as a population. So please don't panic about what is going on in your home. Focus on doing good outside of it.
I was forwarded a seemingly well thought out article suggesting that we are all overreacting, and we shouldn't be thinking about a national lockdown. It seemed to say that the economy was more important, the virus was really hard to contract, and it would go away in the summer. It was loaded with stats and figures. I was asked to give my opinion. I won't provide the article any validity by referencing it, nor will I go point by point, but I will say this:
Take your advice from epidemiologists and healthcare professionals.
Err in the way that minimizes the unnecessary death of people. Physical distancing now will be the way that ensures the least damage to the economy later.
We don't have the luxury to do nothing until we have better information. If we did, that would certainly be the best way to go. We need to get a handle on the spread, and then we can sort out which measures are minimally helpful vs absolutely critical. Maximum restrictions (The Hammer) will only be for a short time, and then restrictions will start to ease (The Dance) (see yesterday's email if that reference is lost on you).
The most appalling thing I read in this unnamed article was that 1% mortality isn't very high. 1% of a large number is a very big number and will overburden the healthcare system. Once the healthcare system is overburdened, the mortality of every disease goes up. If we are a decent society, we will try to stop that.
The New York healthcare system is at capacity already, and there are pockets that are over capacity (just do a quick google search). They are in the process of running out of supplies and ventilators are becoming scarce. Certainly, by tomorrow or the next, the entire New York system will be at overcapacity. Another way to think about this is to think overcapacity equals unnecessary death.
Please, please try to limit every possible unnecessary interaction you can. It's such an important way we can support our medical troops and bide time. Time is gold here. The more you can do this, and the more you get others to do this, the better for us all.
Stay physically distant,
Greg
---
Thoughts from Greg: March 20, 2020
Humans,
I am not waiting till tonight to write. This is too important to wait.
Tomas Pueyo and the team have put up a follow-up article (https://medium.com/@tomaspueyo/coronavirus-the-hammer-and-the-dance-be9337092b56).
He is so good at breaking it down. It was his article that started my wheels turning. Him explaining the fact that we will have 12 days of exponential growth after China-style lockdown changed my world immediately. In this article, he articulates what needs to happen now and then what will follow better than I ever could. So, I want you to read this, immediately.
Seriously, stop what you are doing. Read the article slowly and understand it. It is long and takes some time. Our future is worth it. He introduces two new terms that we will start using a lot. The Hammer and the Dance.
We need the hammer across the whole US now (I'll take California and New York over nothing). Hopefully, the entire country or 48 more states and territories do the same ASAP. The hammer is coming. We just need it quicker. Also, the quicker the hammer, the quicker the dance. Doesn't the dance sound better?
Talk to everyone you can about this. Talk to your real estate agent, your banker. Call your barber, your builder, your housekeeper. Talk to people outside your normal circle. Let them think you are crazy. It really doesn't matter. The people that matter in your lives will know you are doing the right thing.
Also, a very smart person sent me these questions so I figured you might have them too...


On the worldometer you linked to, it shows the US as having nearly 14k confirmed/presumptive positive mild cases and 64 serious or critical. Yet hospitals are saying they are already stretched and at capacity (particularly on the coasts). Let's assume all 64 of the serious or critical are in hospitals, on ventilators, etc. That doesn't seem like enough to overwhelm the healthcare system. (?)

Old data. We have no systems that I am aware of nationally that tells you the current capacity of every hospital at once - the data will catch up. If you have the data, let me know where it is published.

So what are people with mild cases - or people who aren't infected - doing to contribute to the problem?

Healthcare personnel will need to use protective equipment to interact with these people (we will run out very soon everywhere and are already running out now in places that are the worst hit today. Lots of articles coming out about hospitals asking people to start making masks by hand). Going to the ER will not change the course of mild disease. Healthcare people will provide no benefit to mild cases. We can only help with severe cases. Mild cases will not get tested. There is no treatment other than time. Mild cases or people that just want testing will spread the Covid they have or get the Covid they don't yet have and will get no benefit.
For example, is it mild cases going to the ER that is adding complexity and unnecessary burden?

Are there factors related to testing that are interfering?

We need offsite testing available to test asymptomatic or mild cases safely. This is important, but not that important for you and me right this very second. Lots of solutions coming.

Are the numbers of serious and critical cases grossly underreported?

Yes.

Are the reports of hospitals at capacity overstated and it's more of a projection of what's to come?

This is hitting everywhere at different times. New York and Washington have the most cases and that is where I have heard issues of overcapacity. It will hit everyone else very soon - hopefully our distancing is buying us some time. Hopefully, in some places, it will avert a disaster. If you are >60yr or you have other diseases stay home and take care of yourself. If you get Covid, you want to be well-rested, have your diseases optimized, and be ready to kick some Corona-ass.
Stay physically distant - convince others to do so as well!
Greg
PS: Thank you so much for everything each and every one of you are doing. We are supporting the troops (our healthcare workers). It's going to be a nasty war. It has the potential to make the number of deaths during WWII look like child's play if we don't act now. What you are doing and the sacrifices you are making are AMAZING. Keep it up.
PPS: I realized that not everyone speaks English and Corona doesn't care what language you speak. So, I had last night's email translated into Spanish https://www.kainexus.com/quieren-las-noticias-buenas-o-malas (thank you to my Uncle for doing this!). If this valuable to you, please let me know and we will continue to do this!
---
Thoughts from Greg: March 19, 2020
Humans,
I am adding lots of people to this list every day. I hope you are sending it to more and more people as well. So, I figured I would give the new people a little explanation of what I got them into... my personal efforts (actually there are lots of people at KaiNexus and so many others who are now involved) to teach everyone that we can all influence about exponential growth, physical distancing, and 95k ICU beds.
Go here (https://www.kainexus.com/updates-from-greg-jacobson-covid-19) (hint start at the bottom of the page is you want to read it in chronological order) to see the prior emails and use whatever you want to convince as many people as you possibly can. Every one of us has a duty to convince as many people so we don't run out of ventilators (you or your loved one may be the one who needs one).
Also, we created a COVID-19 "pillar" page (https://www.kainexus.com/covid-19-resources) with all our content about COVID-19. This will be updated daily as well.
The good...
Solutions to the human-condition in a Covid world will fill our hearts with love, joy, and hope and we need some love, joy, and hope... so I'm giving you some! And, I realize we also need to disseminate solutions about how we are going to get through this. So look for more of this type of stuff in upcoming emails.
Here are some great stories going on at our schools...
https://blog.kainexus.com/how-schools-are-sparking-joy-in-times-of-crisis
In the meantime, I believe our healthcare is "getting it" more and more every day. Elective visits and procedures are canceling right and left (if you have one, please cancel it now). I had a great call with a number of ER docs whom I work with, and it was an amazing conversation. Many of you may already know, but I only work two 24-hr shifts a month, so I don't meet many of the other ER doctors at my ER. This call made me realize that they are all smart, thoughtful, and motivated. We still have to think outside the box a little more, and we need to come up with ideas even faster, but after today, after seeing the news, and after talking to a number of my doctor friends, the wheels are starting to turn. We are already changing how emergency rooms do triage and the way we provide treatment processes. And, doctors are coming up with creative solutions to conserve masks and gowns (there are safe ways to do this)! Everyone has done the math and, if we throw them out after every use, we will run out in no time. In fact, as I am writing this, I just got a text from a friend whose brother's Long Island Hospital is already running out of supplies. We need to get better at this, and we are.
The bad...
There are still waaaaaaaay more people that still need to understand what's going on and what is about to happen if we don't stop it (hence my nightmare from yesterday). Remember, we are not trying to contain this virus anymore, we are trying to slow it down as much as humanely possible. Let me be very clear, EVERY transfer of the virus that we can stop NOW will save a life later (almost certainly more than one). Literally every single interaction with another person matters. We simply have to flatten that curve. Physical distancing won't decrease the total number of cases anymore, but it will decrease the number of cases we will have at a single moment in time.

I also loved this thought... don't think about "how do I avoid getting the virus" but pretend you already have it and ask yourself "how do I keep from giving it to anyone?"
With all this said, please do not get angry with the people you know who haven't figure it out yet. We need to convince them with love and compassion. Today's Daily Dharma quote speaks to this:
Instead of giving up on those who cause harm, we need to realize that they are seeking happiness but don't know how to find it.
—Chagdud Tulku Rinpoche, "Putting Down the Arrow"
I would be lying if I told you that I really understand all of this completely. But I think it's clear, we need to show empathy to people that don't understand and we have a responsibility to humanity to slowly change their minds (like right this second).
In the famous words of my very close friend and partner in crime, Matt Paliulis... its a marathon not a sprint. So I'm signing out for tonight. It's your turn to go spread the word.
And remember to STAY PHYSICALLY DISTANCE!
Greg


---
Thoughts from Greg: March 18, 2020
Humans,
I'll tell you sometimes I feel like I am living in a nightmare. Not the kind where you go to school wearing no clothes or go to the college final forgetting to ever go to class all semester or being in the ER and never being able to see your patients because people keep pulling you into meaningless errands...
Nope, none of those. This is the one where you are trying to tell everyone that we are being invaded by a virus, and we all need to do something now. Otherwise, it will be too late. But then, I calm down because everyone I talk to says "Yeah Greg, I get it. We are all physically distancing." And then someone tells me that their kid's friends are texting to come and hang out at a coffee shop. Another person texts a picture OUT THEIR CONDO WINDOW of people hanging out at the community pool. Another person emails me a picture of full beaches in Florida, and a family friend goes to a mall because there's a great sale! I hear the desperation from a colleague who emails (and he NEVER emails), "We only have 12 ventilators in this county and no one understands what that means." All of these blares - We have so much more work to do.
But before that (and yes, I have great resources below for you to process and for your influencing efforts), I would like to write each and every one of you a thank you note.
Thank you for everyone making the sacrifices now so that people they do NOT know will not die later. Thank you for giving up your spring break, for giving up being a 15 yr old for a little while, for giving up your freedom, for homeschooling while you are trying to work from home, for giving up your job, for being fired, for giving up your small business, for giving up your dream vacation, for holding off on the rehab, for dipping into your savings, for becoming homeless, for making a sacrifice. Thank you for trusting the scientists and the doctors and the rest of the healthcare workers that yes there is an invisible force that is doubling every 2-3 days that you can't see, feel, or hear that will put a world of hurt on a bunch of people you likely will never know... a bunch of other people's grandparents, parents, brothers, wives, husbands, and parents (that is unless of course you or your loved ones are the one on the ventilator).
Thank you to people that started last Thursday, and to the ones that will start distancing tomorrow. Thank you from the bottom of my heart. You deserve a heartfelt thank you. I hope we never have to go through this again. But in the meantime, this is the highest form of charity a human can do... giving something to someone that you don't know and that person who's life was spared won't know they owe that thanks. It is one of the most powerful forms of charity you can give. And no, it makes no sense today and it may never make sense. But just know, it is the right thing. So thank you.
And, now I bring you back to the reason why you are doing what you are doing, and why we need to keep convincing others that we all need to physically distance... the curve... it's not a pretty one today. It's going to get a lot worse because sure we are getting more tests but also because the virus is also spreading (and, of course, this curve is really lagging behind the real curve) before it gets better.
In order to help you find some of the best resources on the internet, we put together a resources post:
https://blog.kainexus.com/a-list-of-covid-19-resources-to-help-clear-things-up
We also did a very well-received webinar. Dr. Mason Mileur and I did our best to answer your questions. Apparently, I was better than Mason but don't tell him I said so (yes Mom he is on this email and its a joke). Here is the blog post where our one and only Danielle Yoon did an amazing job putting some of the answers in written form (nice job Danielle!).
https://blog.kainexus.com/your-questions-answered-for-our-ask-docs-anything-about-covid-19-webinar
Here is the youtube video. Thank you Mark for hosting! You always make everyone seem so smart and keep us on track.

Keep up the good work everyone. Every encounter we can limit matters. So go do some convincing. Until next time, stay physically distant!
Greg


---
Thoughts from Greg: March 17, 2020
Humans,
The word is getting out and government entities are locking down. We still have TONS of work to do. Even more people need to follow physical distancing if you can believe that. Every interaction you eliminate matters. Yes, every single one. Doctors are now getting angry because people still aren't listening and healthcare facilities are not acting fast enough (see Mark Graban's post on LinkedIn and yes that's right he has 600k followers). I'll tell you I am a physician that is scared and angry.
Please keep spreading the word. Send this to more people not just your friends. Send it to your bankers, general contractors rabbi's/priest's, principals, teachers, neighbors, yard people... people who you would not normally think of sending this too. TALK to those people and help them troubleshoot how they are going to do this.
We are doing a Ask Us Anything about COVID-19 with three doctors tomorrow (Emergency Medicine, Internal Medicine, and Pediatrics). ANYONE can register. Please pass it around. we are doing this because as doctors we think everyone has access to talk to a doctor because everyone we know does (see what I did there ;). But, I have become aware based on the huge outpouring of responses from my daily emails that that is not the case. So, if you or anyone you know would like to ask a doctor a question or three doctors a question register here.
Stay physically distant,
Greg
PS: >1k new cases already today. Exponential is not fun.


---
Thoughts From Greg: March 16, 2020
Humans,
President Trump's announced restricting gatherings of greater than 10 people just now. I hope this will mark the turning point in convincing the masses to take this seriously, but there is still a lot of convincing left to be done! Being physically distant is hard! I almost messed up today as I had an annual A/C maintenance appointment scheduled weeks ago and he almost showed up today.
Anyway, below is today's post continuing to explain the importance of physical distancing. My prediction is holding currently and hopefully we will be in a nationally forced lock down soon. By lockdown, I believe we will be able to get food and other essentials, but the government will focus on restricting how much human contact we have. Think about it, if the government completely prevents anyone from leaving their house, we will have a much bigger problem on our hands (there are 393 million guns out there!). So this will be focused on limiting not eliminating.
To me this change of tide is helping me sleep better, but now we need to prepare for the onslaught of patients. I saw a model that predicts it will occur on week 5, and there will either be no shortages or there will be thousand and thousands of ICU shortages. So, I think it is too early to focus on the specific numbers. Hopefully, the leaders in our healthcare system are planning for this.
So, I want to focus on what we CAN do... yes, thats right you guessed it. Stay home! Whatever the ultimate outcome, we can make it better by staying physically distant. If our ICU's don't have a shortage during this crisis, it will be because of what we do today. If you don't believe this, then you either don't understand the word exponential or you don't believe in math. If you don't believe in math, I can't help you. But, if you don't understand the word exponential, I can help... I wrote an awesome blog post! I put the text in this email below so you don't even have to click but if you want to read it on the blog here is the link.
I decided to focus today's post on understanding what the word exponential means because some people asked me in confidence to explain the word. It's been thrown around a lot and if you really don't understand the word, you won't understand the importance of being physically distant. To peek your interest, let me ask you one question. Would you rather have $2.6m or $5.3m dollars (especially if I told you you could make that in one day). If that peeks your interest, read the post.

Please, please, please pass this information on to everyone you can think of! We have more work to do.
Stay home. Save lives!
Stay physically distant,
Greg


---
Thoughts From Greg: March 15, 2020
Humans,
I awoke this morning (3/15/20) and thought every rational and caring person that I know understood the importance of social distancing. I spent yesterday talking to dozens of people and getting dozens of small social events canceled. I thought my job was done. This morning I spoke to my close friend, a smart and compassionate person, and he was heading with his family to a bike shop and then the Container Store... I realize my job had just begun.
I am an ER doc of 20 years and married to a double-boarded doc with more experience. I realize we have a unique perspective, and therefore, have a duty and obligation to educate and influence as many people as possible. You will never have another day in your life where you can literally make such a small sacrifice and potentially save the lives of dozens and perhaps hundreds or even thousands of people. This is not an exaggeration.
If you care about your fellow humans, I would appeal to you to spend the next hour processing the following information (below email and links to articles) and then send the info to any person you know, especially anyone of influence or power. We will be on lockdown by Wednesday or Thursday as a country (hopefully earlier) and it will be 3 days too late for hundreds of thousands of people when they are dead in about 1 month. Mayor Adler's 250 person (Austin, Tx) ban on 3/14/20 is progressive and an OK start, but it needs to be restricted further ASAP. This needs to happen everywhere. Thousands if not hundreds of thousands of lives will depend on these few days.
I have no memory of ever asking people to forward on information that I send, but I am asking you to forward this and also talk to as many people as you can to tell them to stay home.
Here are three more important resources: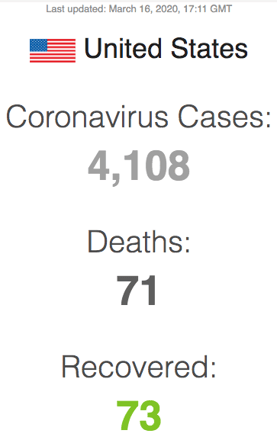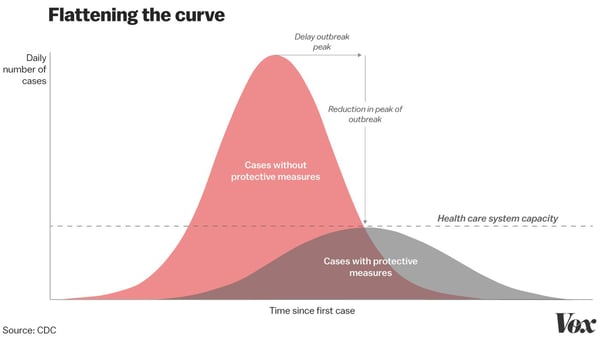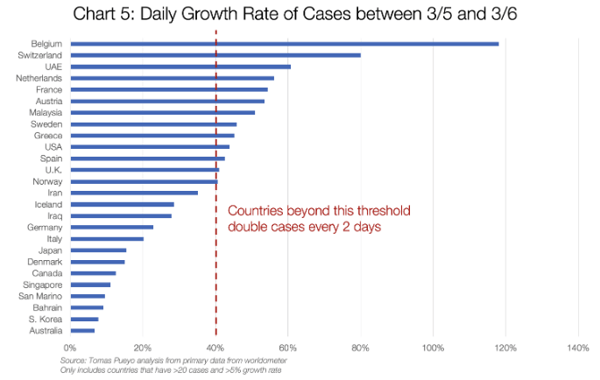 Attached is the updated graph from the US this morning (3/15/20) - this is profound and the most meaningful image we will look at for a very long time.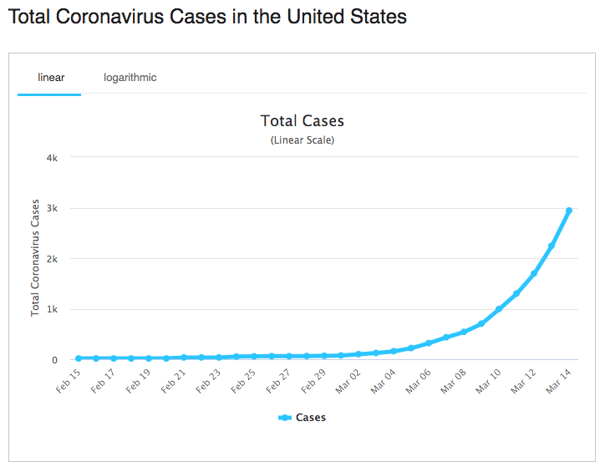 It takes 12 days of total lockdown before you can change the nature of that curve. We are in for a world of hurt as a society if we don't flatten that curve. Italy is 12 days ahead of us. They are on day 6-7 of lockdown. They have another 7-8 of exponential growth. Take a look at their curve it is still going straight up exponentially. They have been out of ICU beds for days.
Please be a part of the solution and influence others to be the solution as well.
Stay physically distant,
Greg
---

From KaiNexus