Welcome to the Ask Us Anything KaiNexus Webinar Series!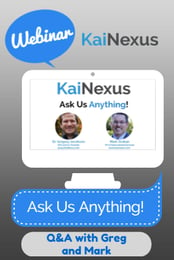 Do you have any burning questions about continuous improvement? What about leadership, or employee engagement, or how to manage innovation and improvement? Curious about what continuous improvement software is, or what it does?
Our regular listeners did.
In the spirit of the popular "Ask Me Anything" series, we've conducted a webinar that built around questions submitted in advance (or submitted live).
Check out our upcoming webinars to attend the next Ask Us Anything episode live!
Watch the recordings:
Episode 3

Episode 4

Episode 5

Episode 6

Episode 7

Episode 8

Episode 9

Episode 10

Episode 11

Episode 12

Episode 13

Episode 14

Episode 15

Episode 16

Episode 17

Episode 18

Episode 19

Episode 20

Episode 21