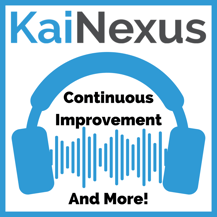 The KaiNexus Continuous Improvement Podcast features content from our webinars (and other types of audio). If you're interested in watching recordings of the webinars, you can check them out here.
This podcast brings you information about continuous improvement best practices, employee engagement, continuous improvement software, different improvement disciplines, and more. Join us as we explore the nuances of creating a culture of continuous improvement, no matter your expertise or industry.
Like the show? Please leave a review in iTunes or wherever you get your podcasts.