When presented with information visually, people are significantly more likely to process and remember it than if the information is presented in other ways. Smart organizations are starting to take note of this phenomenon and make a concentrated effort to present as much information visually as possible.
Visual management is often used to make it easier to identify problems and bottlenecks in a workflow or process. For example, in many car factories, there are lines painted on the assembly line that let everyone gauge the timing of the process. If the work in a station has taken longer than normal, the car will cross the line, signaling that there's a problem in the system (keeping with the Lean principle that we don't look first to blame individuals). Also in car factories, a worker might pull the "andon cord," which will trigger some kind of visual display on a digital board (along with auditory chimes) to help leaders know that there's a problem.



Visual management is a powerful tool for continuous improvement. It makes it easier to engage staff, gives leaders insight into key information, and helps to ensure improvements are moving along as planned.
Many people use paper or offline systems, such as Excel, for visual management around continuous improvement. Limitations of this process are numerous, however, and an increasing number of organizations are finding that continuous improvement software helps them to better achieve the benefits they seek from visual management.


Why upgrade your visual management system to digital?


Know Where Your Problems Are
The whole point of visual management in an improvement culture is that it needs to be easy to spot where problems are so that you can be certain you're not missing anything. That lets you devote your energy to fixing problems, rather than locating them. Continuous improvement software raises the red flags you need to instantly locate problems from anywhere.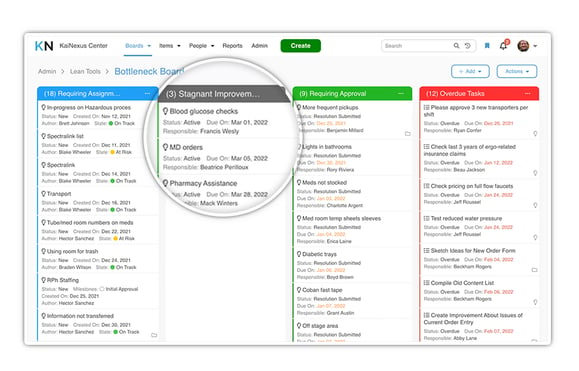 Real-Time Updates
Effective visual management tools provide updates in real-time so that there is no delay between when the problem is identified by one person and when the appropriate people are notified. You want to be able to respond to the problem as quickly as possible.
Using software that automatically updates boards to track workflows, bottlenecks, and stagnant projects helps you catch small problems on the spot before they become bigger ones. Software automatically updates everywhere at once, while static paper boards and excel sheets cannot. This means that whatever your people are looking at, and wherever it's located, you'll know that it's always up to date.


Visibility from Anywhere
When your boards are digital, leaders are able to keep tabs on them without having to walk or drive to each location. That means that they constantly have a finger on the pulse of improvement throughout the organization. Of course, no software tool should attempt to replace all face-to-face communication. Instead, these boards should replace or supplement your paper boards, giving you the benefits of visual management on the floor with increased visibility off-location.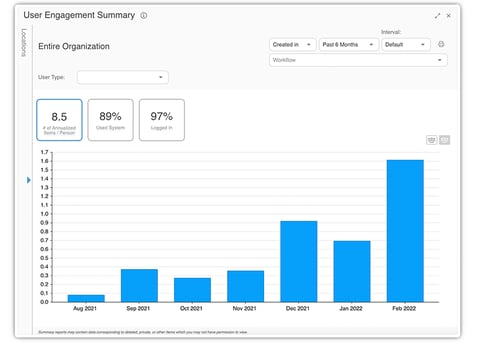 Increased Engagement
It's hard to keep people engaged with old-fashioned bulletin boards because people are only actively engaged when standing in front of the board. With digital boards, everyone stays involved and up-to-date with the board at all times. From the perspective of managers, detailed reports make it easy to hone in on which areas are performing well and which need help so that your coaching has the maximum impact. Employees can use improvement software to visualize the impact their improvements have on the organization, thus increasing their drive to participate more in the future.


Reinforce the Continuous Improvement Culture:
Leading organizations today know that a culture of continuous improvement is key to remaining competitive and innovative. Visual management helps to reinforce this culture by bringing continuous improvement to the forefront of everyone's minds, all the time.

In order to be most effective, your visual management tools should be easily accessible by staff members and large enough to be easy to read. They should not be located in places that are "out of the way." If they are far away from staff members' usual work areas they will not be seen or used because of the extra time it takes to access it, which defeats the purpose entirely.

Additionally, if your visual management tools are complex and difficult to understand, they will not get used. Making tools as simple as possible will increase their usability and make staff members more likely to use them. Visual management tools that sit unused can actually increase the problems in an organization because managers may believe that, since they do not see any problems, there are no problems.