What Is DMAIC?
DMAIC (pronounced "de-may-ick") is often used as a Six Sigma framework tool that outlines a method of identifying and challenging sources of waste, poor quality, and inefficient processes, looking for opportunities for improvement.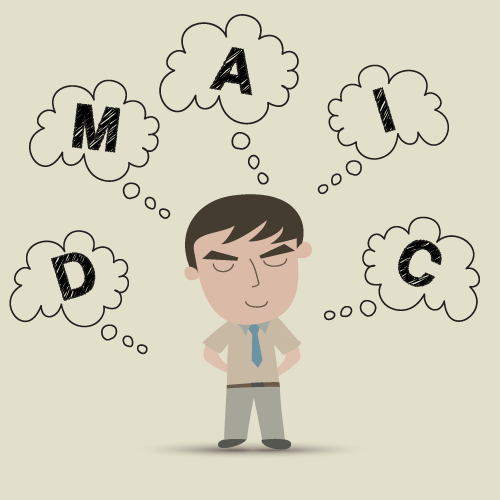 DMAIC stands for:

Define
In the first stage of the DMAIC improvement cycle, the business problem is detailed, the scope and boundaries described, and potential resources and timelines outlined. This step is important because it is where success is defined - how will you know when the project has been successfully completed? What will that look like? You should also be able to answer questions like:
What impact does this problem have on your organization and your people?
Who is the customer (the end customer and/or internal customers)?

Measure
How will you know if your actions have actually resulted in an improvement? The second step of DMAIC allows for such future comparison by assessing the current state for use as a quantified baseline. To do this, it is necessary to identify objective performance metrics than can be compared over time. This step is vital since it permits an unbiased assessment of a project's actual impact. The team should determine:
What performance indicators they seeking to improve
How they will accurately measure the current state and the change over time
Who will be responsible for measurement and reporting and how often the data be collected

Analyze
When trying to solve a problem, it is essential that the improvement team understands its true root cause(s). How else will they know which aspect of the process to target in their improvement work? Your team will want to ask:
What are the likely causes of the problem?
What priority should each cause be given?

Improve
Only after completing the first three steps, is it time to identify, implement, and test a solution. At times, the solution will quickly become clear, but sometimes brainstorming and creativity may be needed from a diverse team. At this point, you'll want to determine:
What the plan for improvement is, and how it will be implemente
What are the risks of the plan are, and how they can be minimized

Control
The final step is to determine if the improvements can be maintained over time, and if the improvement can be applied to other processes throughout the organization. The key to this step is to know:
How you will document the improvement
How the process will be monitored over time
How what you have learned can be shared and applied in other areas

What Are the Benefits of DMAIC?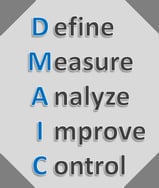 While most companies are self-aware enough to recognize that they have problematic or inefficient steps within processes, they often don't have a clear method for addressing them.
DMAIC works to improve problem solving by bringing some structure to the task. Because this approach is data-driven, it's easier to identify the appropriate targets and root causes, and to make sure that any implemented changes actually outperform the previous method.
Dos and Don'ts of DMAIC
The Role of Continuous Improvement Software in DMAIC

Check out this free eBook for more information about continuous improvement software: