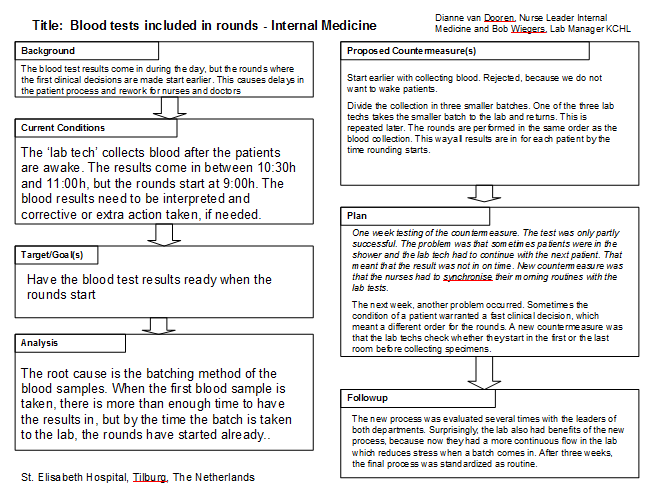 The "A3" methodology arose from Toyota's Quality Circle problem solving endeavors in the 1960s. It took off because it drove teams to gather the most important information on one sheet of paper, leading to a report that's more readable and understandable (and it was the largest size they could fax).
There are several problems with implementing the traditional A3 process in a large, dispersed, or complex organization. The KaiNexus continuous improvement software platform supports the A3 process in a way that solves those problems by connecting all employees.
How is the A3 Process Supported By KaiNexus?
Connect cross-functional or dispersed teams

Typically, it is difficult for cross-functional or dispersed teams to work together on projects of any kind, including A3s. Time and space barriers impede the collaboration process by separating those who need to communicate effectively and efficiently. KaiNexus solves this problem using active notifications that keep everyone in the loop about what's going on with their A3. The right people are notified about updates or questions at the right time, ensuring there is no delay in the improvement process. This enhances face-to-face communication, as team members can spend the meeting time strategizing rather than updating.


Track and share progress in real time

Once the desired future state has been identified in an A3, the team begins working toward that goal. Their progress is traditionally difficult to monitor and share, though. KaiNexus makes that easier by providing a place to log data points so that everyone can see the team's current state and compare to the future state goal.


Aggregate the impact of A3s

Part of the A3 process is to determine the impact the work has on both quantitative and qualitative areas of the organization. KaiNexus makes it possible to aggregate the impact of A3s from across the organization, and filter those results by category in order to determine the impact your efforts have on a variety of measures. The KaiNexure reports display total impact, as well as the impact of individuals, teams, and departments.


Share new standard procedures

The success of outlining new procedures in the A3 process depends on the ability to disseminate that information throughout the organization, ensuring that all relevant employees are aware of the changes. This is difficult to do, as the traditional A3 is kept solely on a single sheet of paper and broadcasting the result must be done in a separate process. With KaiNexus, however, teams are able to select whom to notify about the new procedure as part of the A3 resolution process. KaiNexus then sends email notifications to the right people, saving the team the time and effort of broadcasting their resolution manually.


Store knowledge in an institutional repository

Pieces of paper with processes and results stored on them are typically kept in a file somewhere, accessible only to those who seek them out in that location. KaiNexus stores all A3 information on the cloud, making it accessible to all employees at any time. This means that all employees can, with a simple keyword search, find any A3. The database of A3s ensures that organizations have a successful long-term memory regarding improvement efforts by providing current and future employees with access to historical data.



Don't want to abandon paper A3s?

No problem! KaiNexus is intended to support all of your improvement efforts, regardless of the method you choose to implement them. We know it's important for you and your staff to work the way you work best, which is why we've created the KaiNexus platform to be flexible enough to accommodate your A3 process.
You may choose to do your A3s on paper the way you always have, and simply upload that document (or a photo of it) into KaiNexus as an attachment. That way, you can still manage the communication, data tracking, impact reporting, and broadcasting notifications in KaiNexus, while contributing to your institutional improvement knowledge repository.
* A3 Image Source: Healthcare Kaizen (Graban)