At KaiNexus, we're all about making improvement happen. We facilitate our customers and users as they implement opportunities for improvement, events, and projects. But, we all know the thing that matters is driving results in all areas of operation, not limited to financial measures. This is a key part of what many organizations call "daily Lean management."
Your organization and leaders decide what's important for your balanced scorecard. KaiNexus helps you connect all of your improvement work to these goals, showing the results in a visual way.
How Does KaiNexus Support the Balanced Scorecard Method?
Define and Track Objectives

Administrators of the KaiNexus platform have the ability to define balanced scorecard objectives (called "true north" objectives in "strategy deployment" or "hoshin kanri"), visible to the entire organization and customizable at the organization and department levels. When opportunities for improvement are identified and entered into the system, they can be linked to one or more objectives. Leaders can generate lists of opportunities for improvement that address each objective, showing the progress and impact of the opportunities.
Monitor Employee Contributions to the Balanced Scorecard

KaiNexus provides detailed reporting features that give a 360-degree view of all of the improvement work in the organization. Our reports indicate which departments, work areas, and individuals contribute opportunities for improvement that target the goals of the balanced scorecard, so that leaders can quickly and easily see which groups are high-performing and which need additional coaching.
Create Run Charts to Report on Progress and Trends

KaiNexus also allows you to create run charts for different sites, departments, events, or projects, as shown below. The yellow line shows the employee engagement scores over time, which in this case show a negative downward trend.


Here's an example from one of our customers that is tracking the performance of seven different work areas: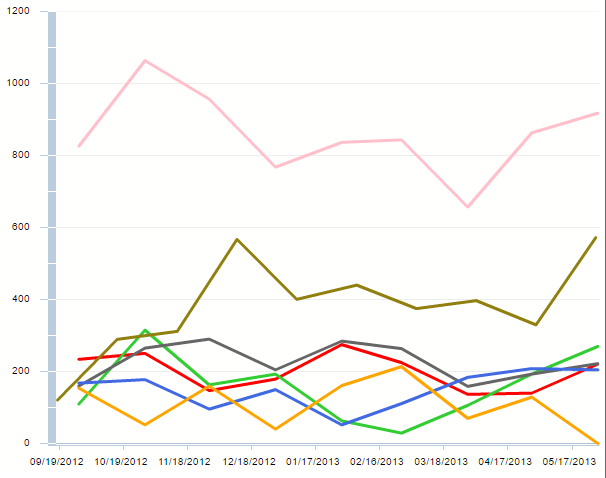 Imagine being able to "drill down" into your improvement work to look for opportunities for improvement, projects, and events that were implemented during particular time frames, better allowing you to connect "cause and effect" between OIs and your key metrics.
Improve communication across the organization

With different people in dispersed areas working diligently on improving all aspects of business operations, it can be difficult to ensure that best practices are being shared. Additionally, it's common for businesses to operate in silos, with people solving the same problems independently throughout the organization. KaiNexus connects all employees with a centralized body of knowledge, active notifications, and increased visibility to ensure that your staff are able to work together, learning from the improvement efforts of everyone else in the organization.