How Our Lady of the Lake Hospital Increased Performance Improvement
Lindsey Booty and LeaAnne Teague from Our Lady of the Lake hospital in Baton Rouge, Louisiana spoke about how they use KaiNexus. Both Booty and Teague work in the Lean Management Office of Our Lady of the Lake, which is an 800-bed teaching hospital that began using Lean and CAP [Change Acceleration Process] methodology about three years ago.
"CAP is change acceleration, we learned it from our GE counterparts when they were here with us in a consulting role, and it helps to ensure that you have the "people" portion of improvement considered. It goes through creating a shared need with your peers and with your team members, making sure that they're properly bought into the change, ensuring that systems and structures around the organization are set up to make sure that the changes are sustained throughout improvement. It really helps us to get aligned with the "people" side of improvement that's often left out when you just look at quality solutions," Booty said.
"Three years ago was around the time that people really began to talk about highly reliable organizations, and to be highly reliable you needed this very robust process improvement platform," Teague said. "Our leadership really looked at that, took the challenge, and said it's through Lean methodology and it's through change acceleration that we want to begin to make our mark."

A big part of Our Lady of the Lake's improvement efforts centered around Lean boot camps they hold bi-annually. However, in 2017 a new electronic medical records (EMR) system was installed at Our Lady of the Lake, which represented separate improvement work that needed to be completed.
"For a good period of time before the implementation of the new EMR, we were focused primarily on that. So, our improvements were just those critical things that we had to get done either to set ourselves up best for that 'go-live,' or to make due until we could allocate proper resources back on to performance improvement," Booty said. "The improvement drive came about out of necessity."



To lift the new EMR fog, and help identify ideas for improvements, leaders were asked to submit ideas including three-components:
Problem statement to explain why this is a problem from the perspective of the customer

Goal statement, using a SMART goal, outlining where the person submitting the idea would like to see the project go

Business case, outlining why the project important to the organization.


"We began using the system KaiNexus in early 2015 to help us to track our impact across our performance improvement, and it is our primary system that we use to capture all of our performance improvement across the organization today," Booty explained. "We had those three pieces submitted via KaiNexus for each of the improvement ideas that [leaders] had."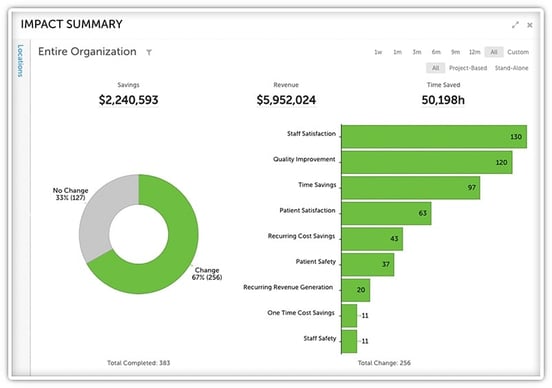 Leaders and managers were invited to participate in the drive several times through announcements at meetings and publications. The goal of the improvement drive was to collect ideas and very strategic projects for the upcoming Lean boot camp, which would make sure the organization was working on some key priority projects for the organization over the next six to nine months, Booty explained.


"We were really blown away by the results, again coming with a brand-new EMR and just the struggles that the organization had faced throughout the 'go-live.' This was literally just a few weeks away from that implementation, and we had 34 improvement project drop submissions that resulted in 11 boot camp projects," Teague said. "Those projects that did not warrant the resources and the strategic components that we looked at [for the boot camp], we asked those leaders to go forth and conquer those, and certainly we would be available to help them, answer any questions and you know, just be available. So, in addition to the 11 boot camp projects, we do see the remainder of those projects taking place throughout the organization. It's quite exciting."

The process for selecting projects to be worked on in the boot camp was extensive. First, an inter-departmental Lean team looked for project viability using a benefit-effort matrix, to get a rough estimate of the benefit of each of the projects would provide measured against the effort it would take to accomplish it.
This would lead to recommendations given to a senior leadership team, who would then review the projects in two stages. This team would ensure the projects are aligned with organizational priorities and that they would agree to appropriate resourcing for those areas. This team also ensured the project had the right executive sponsor commitment, which is an executive manager willing and able to champion these improvements. Each project also had to have an identified process owner, someone to take ownership and carry the torch after the change is put into effect. A coach from the Lean Management Office was also assigned to each project.




The bandwidth of the project location was also considered, weighing carefully what was going on in those areas right down to construction, and so that leaders could be sure the space could support a strategic project compared to the need for the project.
Finally, the senior leadership team discussed who was the appropriate project facilitator.
"The way we did that was via a match day. We had our Director of Leadership Development come to the senior leadership team with a proposed list of facilitators for projects that had not previously been trained in Lean and change acceleration methodology, that we would put through our Lean boot camp and partner with the project to execute the project whether they lived and typically worked within the project area or not," Booty explained.


Once the senior leadership team completed all that, they then handed their recommendations to the Lean Management Committee for their final stamp of approval on the chosen projects.
"We are going to shepherd these eleven Lean boot camp projects through KaiNexus," Booty said. "They are required to submit weekly updates on their progress as they go through the project lifecycle via KaiNexus, so we as their coaches speak to them using the comments and email features often."

Booty and Teague explained that KaiNexus is used in all of their improvement strategies to date, including training.


"KaiNexus fit perfectly with our improvement strategies. We are able to use it at any level in the organization. In the two years that we've been using the system, we have seen such an increase in performance improvement around our organization."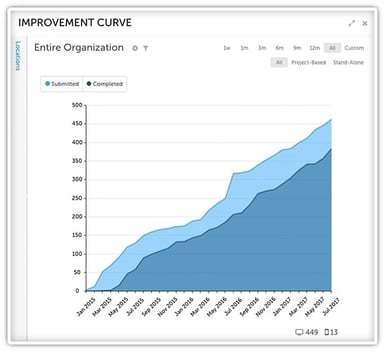 "KaiNexus fit perfectly with our improvement strategies. We are able to use it at any level in the organization," Booty said.
"In the two years that we've been using the system, we have seen such an increase in performance improvement around our organization. Before, we just had no way to capture it, we had no way to track it, we did not know the good work that was going on in our organization. And so as we grow into a more mature Lean and change acceleration organization, this is the vessel that we use to track, and this is how we understand what impact we're making across the organization. KaiNexus has been fabulous in helping us to customize our [improvement] and our project templates to reflect the document that we previously used, as PowerPoint documents. Before, things were submitted to our organization that were very static, and now it's really easy for the people leading those projects to go in and capture their updates and capture what's actually happening. We have a uniform way to capture impact across the organization, and our COO is beginning to ask for that format when she asks for her updates from her direct reports - which speaks bounds."
"I've never seen such quick responses from a support vendor as we do from KaiNexus."

"The team at KaiNexus has been super supportive, and my goodness, I've never seen such quick responses from a support vendor as we do from KaiNexus. Often times, we look back on our Lean journey and say 'wow, we've done a lot in three years,' but looking at just the time since KaiNexus came on board, the changes in KaiNexus have sometimes been faster than we could even learn the new tools that were being put out there. We talked earlier about what's ahead and what's our next step - it's maximizing the potential that KaiNexus brings to us in managing our performance improvement program. We're just excited to be partners with KaiNexus," Teague said
"We also, probably in the fall, hope to really lead one or two of our units in the hospital to perform a pilot where we really focus on that bottom-up improvement area and see where KaiNexus can be of more value to us there," Booty said.
---
See How Our Lady of the Lake Hospital Uses KaiNexus for Problem-Solving Storyboards


"KaiNexus is the way we capture the work that we're doing, and it is the way that we're able to showcase the work that your team members will put into the training and into fixing the processes that they're enhancing for the organizations"
-Lindsey Booty | Senior Lean Lead